If you are looking at the lineup of new Volvo sedans for sale at Gunther Volvo Delray Beach, then you're considering the 2023 Volvo S60 vs. Volvo S90. Both of these new Volvo sedan models offer plenty of comparable comforts and conveniences – and some distinct differences.
So, which new Volvo midsize sedan should you choose? Let's compare the performance specs, pricing, and interior options on the new Volvo sedan lineup to help you select a car that will inspire your daily drive and make your weekend retreats more enjoyable.
Volvo S60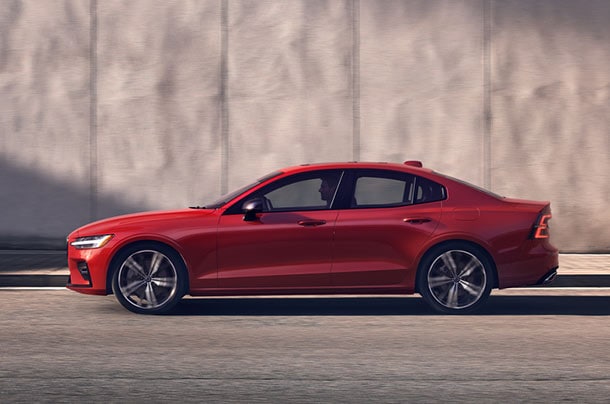 The Volvo S60 sedan is the latest edition of the performance sedan that offers luxury appointments and leading technologies throughout the cabin. Three exclusive styles are available for the 2023 model year: the Core, Plus, and Ultimate. To upgrade your morning commute, slide into a new sedan with a leather interior and a premium sound system. Here's a taste of the leading specs:
247 horsepower
258 pound-feet of torque
26 city/35 hwy MPG2
11.6 cu ft cargo
Five seats
188.1" length
75.4" width
56.6" height
View Volvo S60 Sedans
Volvo S60 Recharge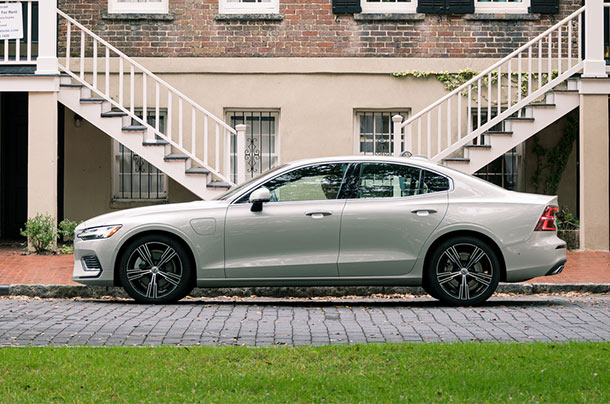 Are you ready to give your drive a charge? Then plug into a new world with a Volvo hybrid sedan and upgrade your efficiency. The new Volvo S60 Recharge offers staggering performance numbers as well as luxury touch points throughout the trim lineup: the Core, Plus, Ultimate, and Polestar Engineered.
Up to 455 horsepower
Up to 523 pound-feet of torque
74 MPGe3
11.6 cu ft cargo
Five seats
188.1" length
75.4" width
56.6" height
View Volvo S60 Recharge Sedans
Volvo S90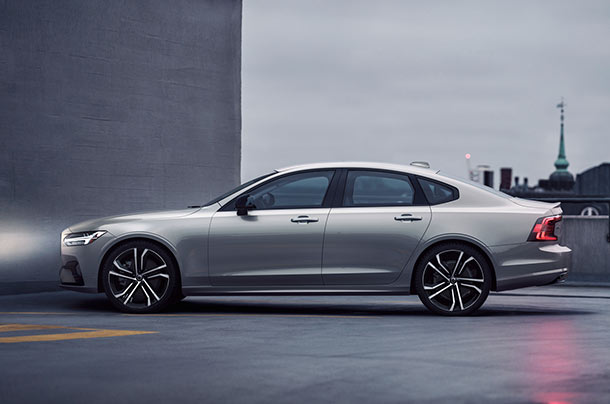 The Volvo S90 is a luxurious sedan that gives you full-size confidence and standard AWD precision. With 295 horsepower and competitive fuel economy numbers, the Volvo S90 exemplifies the Volvo sedan lineup and sets the bar for competitors. The sculpted shapes highlight the exterior design and hint at what's inside the cabin and under the hood.
295 horsepower
310 pound-feet of torque
23 city/32 hwy MPG2
13.5 cu ft cargo
Five seats
200.4" length
74.6" width
57.2" height
View Volvo S90 Sedans
Volvo S90 Recharge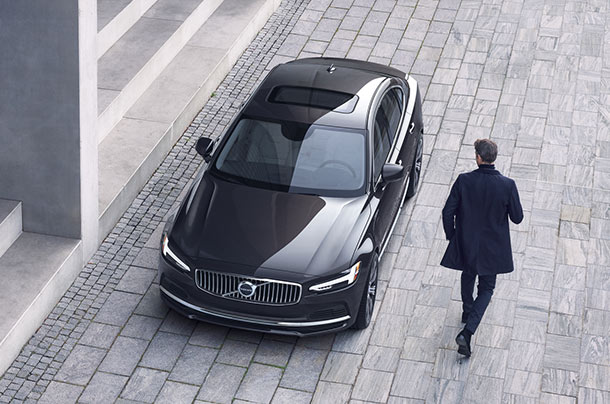 The Volvo S90 Recharge plug-in hybrid gives you the convenience and efficiency of 38 miles of all-electric range,3 setting it apart from hybrids that rely on a gasoline-powered engine. To get a charge out of your drive and enjoy powerful performance and purposeful engineering, take a ride in the Volvo S90 Recharge sedan.
Up to 455 horsepower
Up to 523 pound-feet of torque
66 MPGe3
13.5 cu ft cargo
Five seats
200.4" length
74.6" width
57.2" height
View Volvo S90 Hybrid Sedans
Performance & Fuel Economy: Volvo Sedans
The Volvo S60 lineup begins with choosing the B5 FWD powertrain or B5 AWD on the Volvo S60. Drivers who choose this model will command 247 horsepower and enjoy a cargo capacity of up to 11.6 cubic feet. The Volvo S60 offers comfortable seating for five occupants and produces an EPA-estimated fuel economy of 26/35/30 MPG (City/Highway/Combined) with a 15.9-gallon fuel tank.2 Get yours for a starting MSRP of $41,300.1
When you opt for the all-wheel-drive performance of the B5 AWD, you'll find a starting MSRP of $43,600.1 Horsepower numbers from the turbocharged and supercharged engines stay the same on the Volvo AWD sedans as their FWD counterparts.
The Volvo S90 lineup starts with the B6 AWD powertrain on the Core trim model. The combination turbocharged and the supercharged engine delivers 295 horsepower to all four corners while also providing competitive fuel economy. EPA-estimated numbers on this AWD Volvo sedan are 23/32/26 MPG.2
Why Buy the Volvo S60?
For 2023, the Volvo S60 arrives in a menu of three trim options: Core, Plus, and Ultimate. Each trim builds upon the previous tier to provide different equipment and luxuries. Notable highlights of the Volvo S60 Core include a laminated panoramic moonroof and power shade, Google Assistant, and a comprehensive cross-traffic alert system. Drivers who upgrade to the Volvo S60 Plus for sale will enjoy Pilot Assist, a 360-degree camera, and adaptive cruise control. The flagship Volvo S60 Ultimate comes standard with the audio experience of a Harman Kardon® premium sound system and a four-zone climate system.
Regardless of your chosen model, you'll have a new Volvo sedan that offers refinement, performance, and luxury. The exterior exudes striking proportions and sculpted lines to deliver an iconic piece of automotive design. Inside, the cabin uses an air-quality system to ensure the air you breathe is as clean as the symphony-quality sound emanating from the Harman Kardon® speakers. Why should you buy the new Volvo S60? Because you deserve it.
Who Is the Volvo S90 Intended For?
The new Volvo S90 is for drivers who want performance and luxury. Essentially, the driver who wants it all. Is that you? Then you'll love the acceleration of the 295-horsepower engine and the sleek exterior lines that create an elevated profile. If you believe that there's no reason why you shouldn't drive an AWD luxury sedan that packs a performance punch while also offering 37.8 inches of front headroom, then this Volvo full-size sedan is intended for you.
Hybrid Options Available for Volvo Sedans
After you decide between the Volvo S60 vs. Volvo S90, there's one more decision you need to make: hybrid or gasoline. Because the Volvo S60 and Volvo S90 both offer plug-in hybrid counterparts.
The Volvo S60 Recharge is a new plug-in hybrid sedan that provides up to an estimated 41 miles of pure electric range3 and can accelerate from 0 to 60 MPH in as low as 4.3 seconds. The gas engine and electric motor combine to create usable torque and more traction while emitting fewer tailpipe emissions than a gasoline-powered vehicle. The Volvo S60 Recharge also offers a Pure electric mode that allows you to do just what you think it does: drive solely on the electric motor with a fully charged battery for up to 41 miles.3
The Volvo S60 Recharge offers the Core, Plus, Ultimate, and Polestar Engineered trims for the driver who wants the style and performance of Polestar dual integrated tailpipes, as well as some other tricks up its sleeve. When you combine an electric motor with a gasoline-powered engine that is turbocharged and supercharged, you get an AWD plug-in hybrid for sale that produces up to a combined 455 horsepower.
When you slide into a Volvo S90 Recharge, you'll have up to 38 miles3 of pure electric range to get you to the office. The Volvo S90 Recharge is available in one trim style: Ultimate. The cabin of the Ultimate boasts perforated Nappa leather and a tailored steering wheel, with plenty of color options for you to choose from. Opting for the Volvo S90 Recharge will give you a performance hybrid that can go from 0 to 60 in 4.6 seconds with up to 455 horsepower.
Pricing: Volvo Sedans
Volvo S60 Core - Starting MSRP of $42,3951
Volvo S60 Plus - Starting MSRP of $45,0951
Volvo S60 Ultimate - Starting MSRP of $47,8451


Volvo S60 Recharge Core - Starting MSRP of $52,3451
Volvo S60 Recharge Plus - Starting MSRP of $55,0451
Volvo S60 Recharge Ultimate - Starting MSRP of $57,7951
Volvo S60 Recharge Polestar Engineered - Starting MSRP of $69,1451


Volvo S90 Plus - Starting MSRP of $58,2951
Volvo S90 Ultimate - Starting MSRP of $63,8451


Volvo S90 Recharge Ultimate - Starting MSRP of $68,7951
Frequently Asked Questions
When comparing the new Volvo sedans, the Volvo S60 and S60 Recharge are smaller than the S90 and S90 Recharge. The Volvo S60 and S60 Recharge boast a length of 188.1 inches, while the Volvo S90 and S90 Recharge offer 200.1 inches in length. However, the S60 and S60 Recharge are slightly narrower and shorter, but only by a marginal amount.
While there is quite a bit of speculation about what the 'S' stands for in the new Volvo S60 and S90 models, the 'S' stands for "Saloon," which is how Europeans refer to their sedans. If you are comparing the new Volvo sedans for sale, contact our dealership to learn more.
The 2023 Volvo sedans are available in four model variations: Volvo S60, Volvo S60 Recharge, Volvo S90, and Volvo S90 Recharge. The base model Volvo S60 Core has a starting MSRP of $42,3951 and increases to the top-of-the-line Volvo S90 Recharge Ultimate with a starting MSRP of $68,795.1 The Volvo S60 is also available in a Polestar Engineered edition, which carries an MSRP of $69,145.1
Yes, the 2023 lineup of new Volvo sedans and plug-in hybrid sedans each offer AWD capability depending on the powertrain you choose. The Volvo S60 Core, Plus, and Ultimate trims are available with an AWD option. If you choose the Volvo S90, you'll be glad to know that the B6 AWD Plus and B6 AWD Ultimate are both all-wheel-drive vehicles.
Yes, the Volvo S60 sedans have a towing capacity of up to 2,000 pounds when properly equipped. If you need to pull a small trailer behind your Volvo midsize sedan, then we suggest the Volvo S60 or the Volvo S60 Recharge. Both the S60 Recharge B5 FWD Core and B5 FWD Plus can tow up to 2,000 pounds (when properly equipped) to help you pack heavy for your next road trip.
When comparing the new Volvo sedans for sale, the new Volvo S60 and Volvo S90 offer plenty of trunk room. The smaller Volvo S60 and Volvo S60 Recharge plug-in hybrid provide up to 11.6 cubic feet of cargo capacity behind the rear seats, but if you need more room for your gear and groceries, the Volvo S90 and Volvo S90 Recharge can offer up to 13.5 cubic feet of cargo room with the rear seats upright.
The maintenance cost of your new Volvo sedan is comparable to other vehicles in this class. A benefit of when you purchase one of the new Volvo sedans is getting the first three years of maintenance included with your purchase.4 When it's time for factory-scheduled maintenance on your Volvo vehicle, come to our Volvo service department for auto repair.
More Volvo Research to Explore:
---
Make an Inquiry
* Indicates a required field
---
1Prices shown are Manufacturer's Suggested Retail Price (MSRP), Base Price or Starting At price and excludes destination fees, taxes, title, license, and registration and/or electronic filing fees, dealer fees. Images shown are for informational purposes only. They may not necessarily represent the configurable options selected or available on the vehicle and they do not show true renderings of colors and/or upholstery. We cannot be responsible for typographical or other errors, including data transmission, display, or software errors, that may appear on the site.
2For more information, please visit the official US government source for all fuel economy at www.fueleconomy.gov.
3This is an electric vehicle. Since electricity is not measured in gallons, a conversion factor is used to translate the fuel economy into miles per gallon of gasoline equivalent (MPGe). Your MPGe will vary for many reasons, including but not limited to, driving conditions, how and where you drive, how you maintain your vehicle battery-package/condition, and other factors. For more information, including information on MPGe, see www.fueleconomy.gov. Ranges are estimates too.
4Warranties listed on this web page shall not be solely relied upon. Warranties may be subject to specific terms, restrictions, exclusions, and fees. Additional warranty information may be obtained by visiting the official website of the warranty provider. Contact our dealership for complete details.