2022 Roundup: The Best Luxury Cars From $50,000–$60,000

If you're on the hunt for the best luxury cars from $50,000–$60,000, then you're in luck. Your team at Gunther Volvo Cars Delray Beach has put together a comprehensive list of the heaviest hitters in the segment. We'll go over key facts and figures that you need to know. If you have $60K in the budget for a new car, you've got a lot of luxurious options.
Be careful, though. Many OEMs will lean on past achievements and hope that brand recognition will be enough to drive a purchase. Volvo Cars goes the distance and ensures every luxurious model comes packed with the modern driving technology on your wish list. So let's dig in. The best cars under $60,000 are waiting to be discovered right here.
Is Your Mind on Your Money?
Many of us are price-conscious shoppers. We comb the internet every day for everything from vitamins to vacation packages looking for the best deal. In other words, we want our money to go as far as it can, providing the most bang for its buck. Unfortunately, some vehicle manufacturers exploit this bargain-hunting mentality. The promise of luxurious motoring is often yanked away by sleight of hand, leaving hopeful drivers with a bare-bones version of what they thought they might get based on the latest commercial or print ad.
This isn't the Volvo Cars way. True, we're a leading luxury brand, but we're also about making sure you get what you pay for. If you're paying top dollar for a luxury vehicle, you should get some luxury items, right? For instance, Mercedes-Benz, BMW, and INFINITI will all give you synthetic leather seating to start. Then you'll peel through the layers of the build sheet only to find that all the options you had hoped for add thousands more. Not with Volvo Cars.
The Volvo S60. Luxury. Performance. Value.
Cited by Car & Driver as the perfect balance between performance and luxury, every Volvo S60 ensures you have a thrilling drive with the latest features demanded by modern drivers. That's why you'll find essentials such as:
Adaptive LED headlights
LED taillights
Leather seating
12.3-inch digital driver display
9-inch touch-screen infotainment center
Voice command functionality
Forward collision detection
Reverse-traffic detection
Lane-keep assist
Lane departure warning
Blind-spot monitoring
Automatic braking
Run-off-road mitigation
Oncoming collision avoidance
Sure, if you want to step it up and pile on features like a Head-Up Display, 360-degree camera, semi-autonomous drive, tunable suspension, massage seating, and up to 455 horsepower, you absolutely can. But we leave those final details up to you. At its core, every Volvo S60 model comes with the essentials that we know today's drivers just can't live without. Now we'll take a look at the list of candidates and see who's really got the best cars under $60K.
The Best Luxury Sedans Under $60K
In this section, we'll name the top 10 best cars under $60K and point out key takeaways to assist you with your research.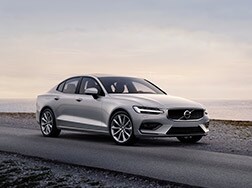 Overview:
The Volvo S60 is available with anywhere from 247 horsepower to 455 horsepower. Depending on the configuration you select, front-wheel drive or all-wheel drive will help you make the most of any drive. Three-year/36,000-mile factory scheduled maintenance1 is included, as is leather upholstery, ADAS driver safety, stunning exterior colors, premium wheels, and more. Semi-autonomous driving is also now standard.
Horsepower:
247 hp
0-60: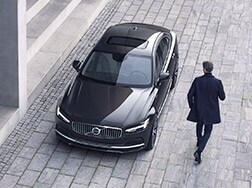 | | |
| --- | --- |
| Overview: | As you might have guessed, the Volvo S90 is the larger version of the Volvo S60. Optimized for extended touring and premium comfort, you'll enjoy a true luxury sedan with a pass-through rear bench, standard all-wheel drive, and wireless charging with semi-autonomous driving, among many other features. Imagine the Volvo S60, just bigger – and with a few more goodies. |
| Horsepower: | 295 hp |
| 0-60: | 6.2 seconds |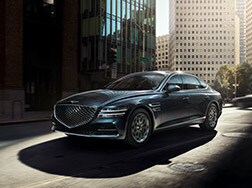 | | |
| --- | --- |
| Overview: | Credit where credit is due. The Genesis G80 is a viable alternative to either Volvo sedan model. Going nearly toe-to-toe with the Volvo S60 on all counts, we applaud Genesis for also including a three-year/36,000-mile complimentary factory scheduled maintenance.1 There aren't many brands that do. Be on the lookout for rear-wheel steering. |
| Horsepower: | 300 hp |
| 0-60: | 5.7 seconds |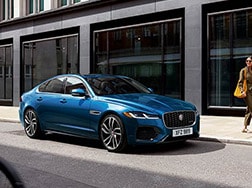 | | |
| --- | --- |
| Overview: | Exuding confidence and class, we'd put the Jaguar XF among the top of our alternates to the Volvo Cars brand. Jaguar has come a long way since its dark ages of questionable reliability. This sedan is a great option for folks searching for the best luxury cars from $50,000–$60,000. Infotainment has been upgraded to the Pivi Pro system, but you'll have to pay for ADAS safety. |
| Horsepower: | 246 hp |
| 0-60: | 6.6 seconds |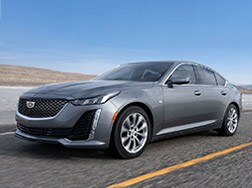 | | |
| --- | --- |
| Overview: | Sharp American styling is found in the Cadillac CT5. With the CT5, you'll find more available power than the Genesis or the Jaguar, though you'll have to pay to add on the safety features. Additionally, Cadillac only covers the first service visit. Blind-spot monitoring and lane assist are now standard. |
| Horsepower: | 237 hp |
| 0-60: | 6.6 seconds |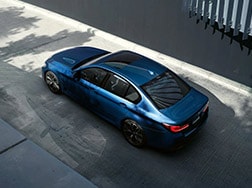 | | |
| --- | --- |
| Overview: | The ultimate driving machine holds onto its core with distinctive German styling and precision road handling. You find the BMW midway on our list because it is one of the priciest of the lot, though it doesn't offer standard leather or many other standard Volvo Cars features. Fortunately, a three-year/36,000-mile maintenance plan is included.1 |
| Horsepower: | 248 hp |
| 0-60: | 5.9 seconds |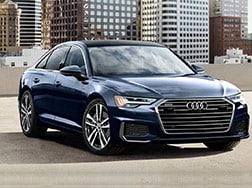 Overview:
The Audi A6, in our opinion, marks the best of our least favorites. With distinctive upscale style, the Audi A6 is pricier than other rivals and light on some of the features you would expect — as found in others discussed thus far. Like Cadillac, Audi only covers your first service visit, leaving you open to costly luxury car repairs.
Horsepower:
261 hp
0-60:
5.8 seconds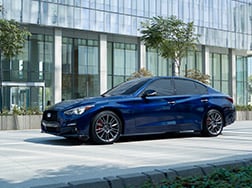 | | |
| --- | --- |
| Overview: | The Q50 gets you into the "luxury" sedan segment with one of the lowest MSRPs of the bunch. That said, you get what you pay for. Peppy performance comes in at 300 horsepower, but you'll have to pay for everything else (like the 400-horsepower Red Sport). The cabin design is dated, leaving us expecting a makeover for the INFINITI Q50 in the future – it's needed. |
| Horsepower: | 300 hp |
| 0-60: | No data available |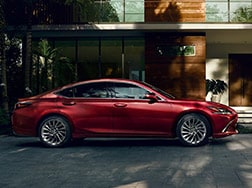 | | |
| --- | --- |
| Overview: | The Lexus ES offers up to 302 horsepower at the top of the range. This is a small number against the field of other sports sedans. With an interior that's seemingly inspired by BMW (though touch screens have been relocated, so you don't dislocate your arm trying to reach them), this is another vehicle that does its best to hide its origins. One year of maintenance is covered, which does not compare so well to some of the other maintenance packages you can find on luxury vehicles. |
| Horsepower: | 203 hp |
| 0-60: | 6.1 seconds |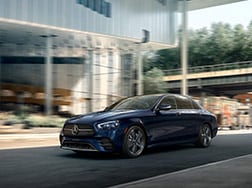 #10 2023 Mercedes-Benz E-Class
| | |
| --- | --- |
| Overview: | Shockingly, Mercedes-Benz is last on our list, primarily due to the fact that it's among the priciest of all vehicles mentioned (and light on standard luxury, safety, and technology). Fortunately, the E-Class is one of the only German entrants on the list to offer a touch screen center stack that doesn't pop out of the dash like oversized toast, though maintenance (and just about everything else) is not included. Look out for newly introduced colors like Nautical Blue Metallic. |
| Horsepower: | 255 hp |
| 0-60: | 6.1 seconds |
Luxury is a highly subjective term, as is the word "best." The above vehicles are the leading examples that define the segment. At Gunther Volvo Cars Delray Beach, we believe that you should get what you're paying for without any bait-and-switch. Volvo Cars packs on the features, the luxury, and the legacy of safety, innovation, and value for an unsurpassed ownership experience. We're pretty sure that if someone asked you which are the best cars under $60K, Volvo Cars would be at the top of your list, too.
FAQ About Pre-owned Luxury Cars
When it comes time to buy or lease one of the best luxury cars under $60K, we want you to be confident in your choice. Nothing will substitute an email exchange or phone call with one of our sales specialists to review all the details, but for your convenience, we're listing a few of the questions we get the most:
What is the fastest car under $60K?
From this list, the Volvo S90 has the most horsepower while the INFINITI Q50 has the quickest 0-to-60 time. Of course, this answer changes considerably as you begin to mix and match options and features, but then we're talking about a price range beyond $60K. In that realm, however, the plug-in hybrid Volvo S60 Recharge does exceptionally well with its 4.3-second 0-to-60 time.
Which car under $60K is the most affordable?
The INFINITI Q50 has the lowest starting MSRP from our field of options. However, as we've pointed out, the base Q50 is going to be light on just about everything with a substantial markup accompanying the addition of comparable features. We'd recommend finding a sleek new luxury vehicle that balances affordability with the features and creature comforts you're after.
What are the best cars under $60K to buy?
The Volvo S60 and Volvo S90 are some of the best luxury cars from $50,000–$60,000 out there. Each of these sleek and sporty executive sedans offers performance potential, fuel economy, and a comfortable interior that is packed with luxury features. You can opt for a dynamic plug-in hybrid model or stick with the efficient mild-hybrid sedans.
Luxury Cars Under $60,000: Conclusions
Some people equate the luxury car market with price tags well into the six-figure bracket. We trust that our list of the best cars under $60K has proven to you that you don't need to take out a second mortgage to buy or lease a luxury car. Quite the opposite, in fact.
But among those named, which would you describe as one of the best cars under $60,000? Would you base your decision on branding, features, pricing, or all of the above? Going for anything other than a Volvo vehicle is kind of like buying an expensive three-piece suit and only being given one piece. And come to think of it, many of the suits from our new Volvo vehicle inventory all start at less than $60K.
Make an Inquiry
* Indicates a required field
Continue Your Volvo Research:
---
1Warranties listed on this web page shall not be solely relied upon. Warranties may be subject to specific terms, restrictions, exclusions, and fees. Additional warranty information may be obtained by visiting the official website of the warranty provider. Contact our dealership for complete details.