2023 Volvo XC90 For Sale In Delray Beach Near Boca Raton, FL

Expand or Narrow Your Volvo Inventory Search Using These Convenient Quick Links:
* While we make every effort to provide you the most accurate, up-to-date information, occasionally, one or more items on our website may not represent actual vehicle (Car Availability, Mileages, Equipment, Options, Color and Prices may vary due to the involvement of other vendors and human error).
2023 Volvo XC90: Overview
Our new Volvo XC90 for sale in Delray Beach, FL, is a sleek and dynamic three-row midsize luxury SUV that looks and travels great on the road. You and your family will enjoy rides in this car, whether they're around town or see you cross state lines.
What's New With the 2023 Volvo XC90?
The 2023 model year has seen a number of significant changes to the Volvo XC90. Most notable, perhaps, is the complete overhaul of the vehicle's available trims. The Momentum, Inscription, and R-Design options are gone; now, there are the Volvo XC90 Core, Volvo XC90 Plus, and Volvo XC90 Ultimate which we will go over in our Volvo XC90 reviews below.
Other changes to the Volvo XC90 include the addition of mild-hybrid technology to previously gasoline-only powertrains and new options that drivers can choose for the Plus and Ultimate models. These choices determine sorme key aesthetic features of the vehicle. Every version of the Volvo XC90 will look great on the road as you drive your new car near Pompano Beach, FL.
2023 Volvo XC90: Design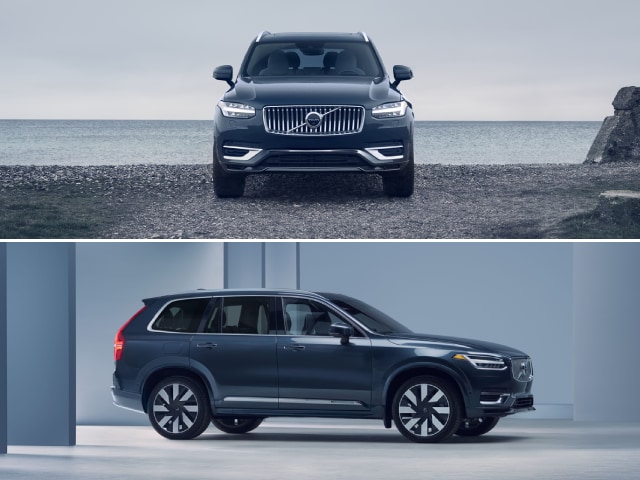 Exterior Design
The new Volvo XC90 for sale is a sleek machine. The Core model features a chrome frame and black insert in its front grille, alongside 19-inch six-spoke turbine silver-painted wheels. The integrated roof rails will shine as you go adventuring near Boca Raton, FL. Upgrading to the Plus model unlocks 20-inch, 10-spoke black wheels, upgrades to the front grille, and twenty protective caps for the wheel bolts.
The Ultimate trim continues the trend of increasing wheel size, offering 21-inch eight-spoke diamond-cut wheels. You also get chrome protective caps, as opposed to black matte on the Plus trim. The 2023 Volvo XC90 is available in seven compelling colors.
Interior Design
The Volvo XC90 is a masterclass in interior design. The vehicle embraces a minimalist aesthetic without sacrificing comfort, making for a refined and elegant cabin space. The standard interior configuration for the vehicle features three seats in the second row and two in the third, but drivers can upgrade to a pair of captain's chairs in the second row if they see fit.
Every version of the new Volvo XC90 has sophisticated interior lighting that welcomes you into the space. Instead of the single level of illumination found in many vehicles, the Volvo XC90 has base and mid-level lighting options. The innovative mid-level lighting includes front-seat mood lighting, ambient footwell lights, reading lights, and extra cargo compartment lighting.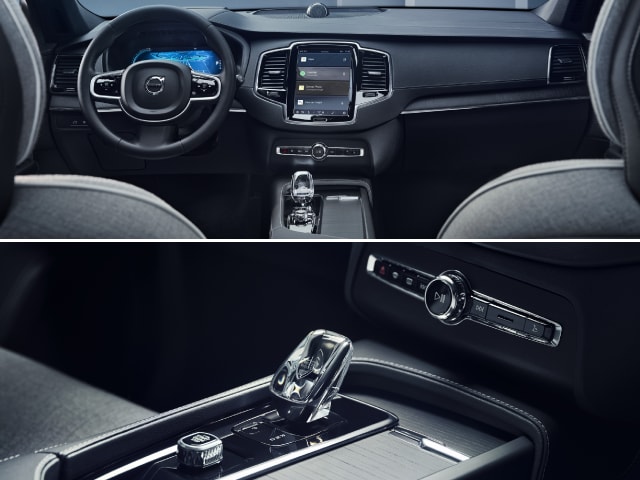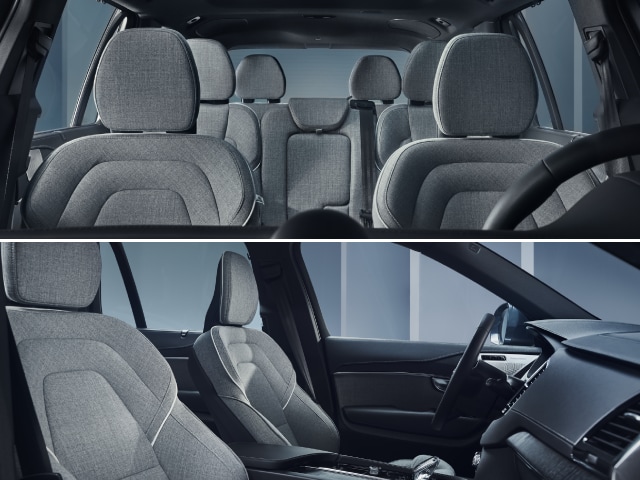 Volvo XC90: Comfort
The new Volvo XC90 for sale is replete with luxury features. Every version of the vehicle, including the entry-level Core model, features sumptuous leather upholstery. The four-zone climate control allows drivers to ensure that everyone is comfortable, even if you like it warm and the kids want to be cool. Afterrun parking climate technology can continue cooling the air in your car for fifteen minutes after you park.
The Core model enjoys heated front seats, and the Plus model has a heated second row, too. The Ultimate model adds ventilation to the front seats to keep you cool on even the warmest days. Drivers and passengers alike will also enjoy the panoramic roof found on every version of the new Volvo XC90.
New Volvo XC90 Accessories
There is a wide variety of Volvo XC90 accessories available that allow you to customize your new luxury SUV further. Genuine Volvo load bars allow you to fully leverage the car's integrated roof rails. All-weather mats can be added to the floor of the vehicle, whether in the cabin or the back of the car.
Aesthetic upgrades for the car also abound. Custom fender flares let you add your own touch to the Volvo XC90, as do seat covers. The latter has the added benefit of protecting your sleek leather seats from accidental spills and unwanted dirt.
2023 Volvo XC90: Technology
Touch Screens and Media Displays
The nine-inch touch screen that comes standard on every Volvo XC90 features intuitive controls and a wide range of functionality. It's the hub for Volvo XC90 Apple CarPlay® and Android Auto™; these two programs allow you to play music and run navigation from your cell phone. The 2023 Volvo XC90 features built-in Google technology such as Google Assistant™, which helps you manage your busy schedule.
Google™ integration means that you can use Google Maps™ inside your vehicle. This does require a subscription, as data has to be beamed to your SUV, but the purchase of a new Volvo XC90 includes up to a four-year subscription to all of these fantastic features. See your sales specialist for complete details.
Cutting-Edge Features
Modern infotainment is not the only technological advance in this luxury three-row SUV. The Volvo XC90 air filter keeps the air in your cabin clean and crisp, stopping up to 95 percent of dangerous PM 2.5 (particulate matter) from entering the interior of your vehicle. The available 19-speaker sound system from Bowers & Wilkins® will bathe you and the other occupants of the car in crisp versions of your favorite songs.
The dashboard is also where you'll manage the wide range of safety technologies that come standard in the Volvo XC90. We will detail these below but wanted to mention them now because these are a key component of the compelling vehicle.
The Volvo Graphical Heads-Up Display
The heads-up display available for the Volvo XC90 is something straight out of a sci-fi movie. The vehicle uses advanced technology to project information on the very bottom of your windshield, allowing you to follow navigation directions without turning your gaze away from the road for even a moment.
This technology goes out of its way not to be distracting. The brightness will automatically adjust itself to compensate for the current amount of sunshine, for example. You can also adjust the settings manually. The head-up display in the new Volvo XC90 will help you avoid becoming lost in Delray Beach, FL.
The Volvo Cars App
The Volvo Cars app allows you to remotely control and monitor a wide variety of functions and features on your new luxury SUV. You can check the charging levels if you have a Recharge model of the car and can control the climate system even if you're not in the vehicle. This means that you can turn on the air conditioning before you even leave the house, ensuring that the cabin is comfortable once you're ready to go.
This app can also lock and unlock the car. It even allows you to schedule service at Volvo dealerships and get support in real-time if you're experiencing an issue. The app is free and can be downloaded onto your Apple® or Android™ phone. This is one feature that you won't find on most used Volvo XC90 vehicles.
2023 Volvo XC90: Performance
| | 2023 Volvo XC90 B5 AWD | 2023 Volvo XC90 B6 AWD | 2023 Volvo XC90 T8 eAWD |
| --- | --- | --- | --- |
| Engine | Direct Injected Turbocharged Engine | Direct Injected Turbocharged Engine | Direct Injected Turbocharged Engine |
| Horsepower | 247 hp | 295 hp | 455 (Combined) hp |
| Torque | 258 lb-ft | 310 lb-ft | 523 (Combined) lb-ft |
| Transmission | 8-speed automatic | 8-speed automatic | 8-speed automatic |
| Fuel Economy Combined | 252 | 222 | 273 |
| Fuel Tank Capacity | 18.8 gal | 18.8 gal | 18.8 gal |
| Fuel Type | Gasoline | Gasoline | Gasoline/Electric |
| Storage/Cargo Capacity | 85.7 cu ft | 85.7 cu ft | 85.7 cu ft |
| Towing Capacity (when properly equipped) |  4,000 lbs |  5,000 lbs |  5,000 lbs |
| Seats |  7 Passengers |  7 Passengers |  7 Passengers |
| Dimensions H/L/W |  69.9 in/195 in/84.3 in |  69.9 in/195 in/84.3 in |  69.9 in/195 in/84.3 in |
2023 Volvo XC90: Trims
As we noted above, the new Volvo XC90 for sale has a completely redesigned set of trims. The entry-level model is called the Volvo XC90 Core. While it is the base version of the car, it is anything but basic. It features leather upholstery, an incredible engine, and is a Volvo XC90 AWD model, just like the other iterations of the automobile.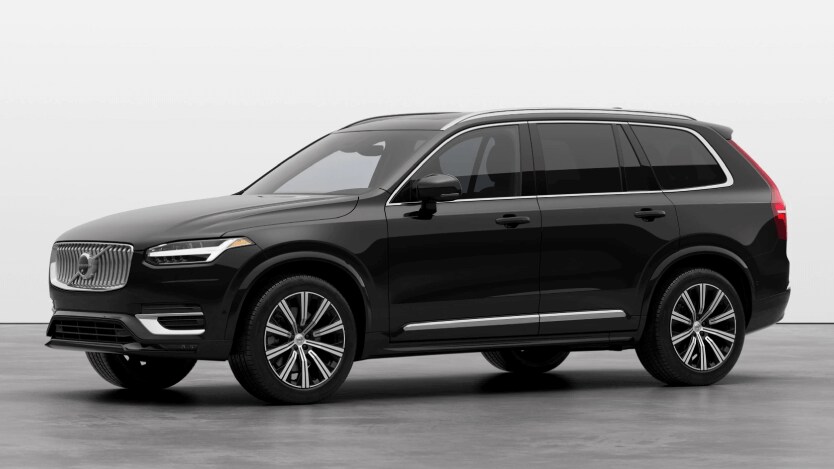 Volvo XC90 Plus
---
The mid-level Plus trim adds various features to those found on the base model. When you upgrade to this trim, you'll enjoy front, rear, and side parking assistance technology, heated rear seats, a 360-degree camera, and 20-inch wheels. The heated steering wheel will be a blessing on cold mornings or when your hands are sore. This trim is a fantastic blend of comfort and value.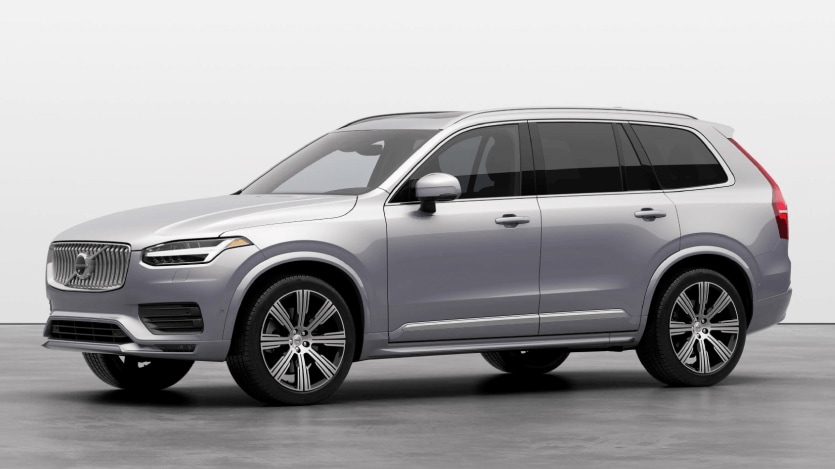 Volvo XC90 Ultimate
---
The Ultimate trim is, as the name suggests, the top-tier version of the mild-hybrid Volvo XC90. It boasts a real crystal gear shift designed by Orrefors®, Gray Ash natural wood interior accents, ventilated Nappa leather upholstery, Graphical Heads-Up Display, and 21-inch black wheels. You and your loved ones will be riding in supreme comfort if you opt for the Ultimate version of the new Volvo XC90.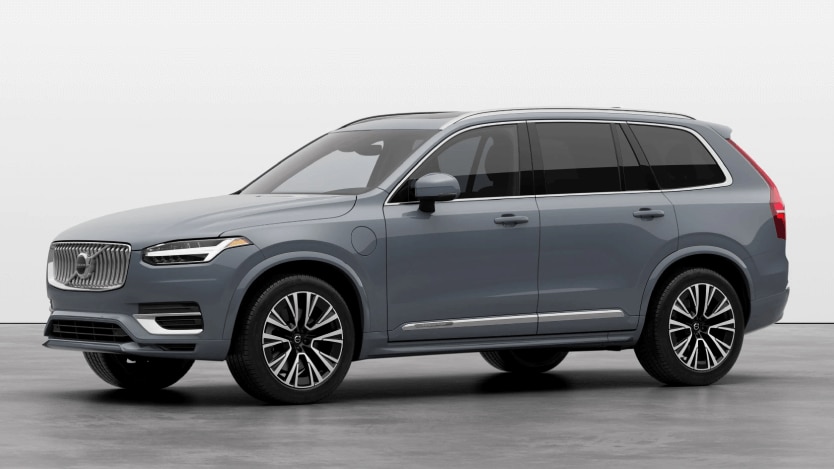 Volvo XC90 Hybrid
---
The 2023 version of this luxury SUV still includes the Volvo XC90 hybrid option, the Volvo XC90 Recharge. This vehicle has the most efficient Volvo XC90 MPG rating and looks fantastic on the streets near Pompano Beach, FL. Reach out to our dealership staff if you need any help deciding which version of this gorgeous new SUV is right for you and your loved ones.
2023 Volvo XC90: Color Options
2023 Volvo XC90: Safety
The new Volvo XC90 is replete with safety features to help you navigate the streets and highways near Boca Raton, FL.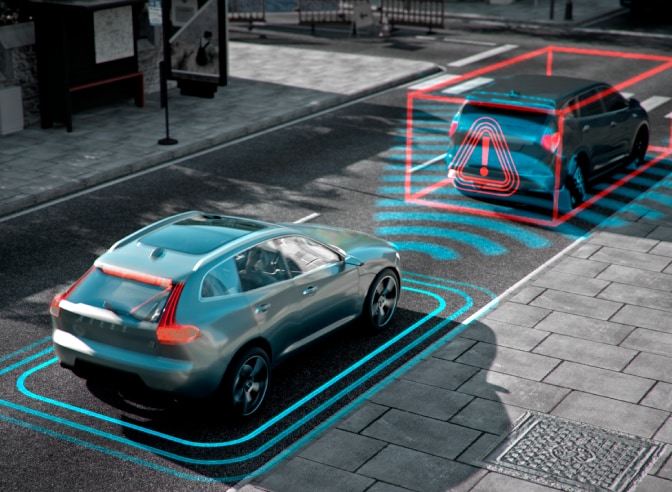 Driver Assistance System
Every model comes standard with a wide variety of safety features, including:
Adaptive cruise control
Blind-spot monitoring and rear cross-traffic alerts
Road sign information system
Lane-keeping assistance technology
Rearview camera
Rain sensor and slippery road alert
Oncoming lane mitigation system
These technological features all act to support the driver in two ways. Some of these programs, such as the road sign information system and rear cross-traffic alerts, feed you the information you need to drive safely. Other features, such as the lane-keeping assistance technology, step in to try and correct any errors that occur when you're driving. Adaptive cruise control makes long drives on the highway more bearable as you can rely on your vehicle to adjust to the flow of traffic.
Reliability
The Volvo XC90 is incredibly reliable. The Scandinavian design ethos of this vehicle prioritizes utility, meaning that the car is intended to drive for thousands of miles without any hiccups. The vehicle you buy today for your family may one day be the car you hand over to your teenager as their first car. If that's how things shake out, you'll be grateful that the car is full of safety technology that can help keep your teen out of trouble on the road.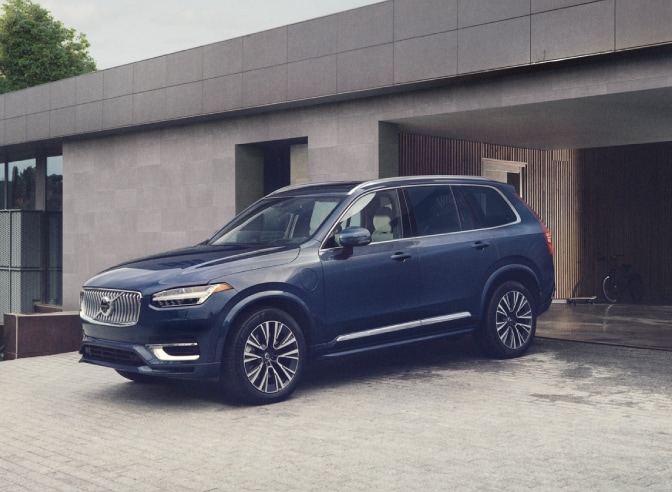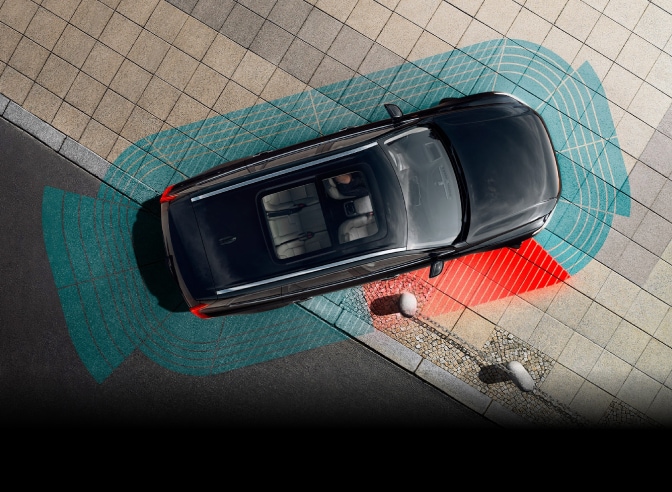 Parking Distance Control
Another innovative feature of the Volvo XC90 is the parking assistance technology. The base model features front and rear sensors, while the Plus and Ultimate trims add a side sensor to the mix. This technology shows drivers when they're close to any obstacles, allowing you to confidently park this three-row SUV in tight spaces. The vehicle accomplishes this with a sound-based system. As you approach an obstacle, you'll hear a low thrumming sound. When you get closer, the sound will increase in intensity. If you overdo it, the car will automatically brake in an attempt to avoid a collision.
As we have seen, Volvo Cars places a premium on safety. That's why they have included a comprehensive and dynamic array of safety features on every version of the new Volvo XC90 for sale. We hope, of course, that you'll never need any of the advanced safety features, but it's better to have them. If you're ready to start driving one of these sleek new vehicles near Pompano Beach, FL, then check out our Volvo XC90 lease specials.
2023 Volvo XC90: Warranty & Maintenance
Warranty
Volvo Cars cares about their customer experience and, to this end, offers a comprehensive warranty when folks purchase a new Volvo vehicle. Your new Volvo XC90 will enjoy a bumper-to-bumper warranty for the first four years of ownership or 50,000 miles driven, whichever comes first. The warranty does not entirely expire once you meet one of these thresholds, however.4
Corrosion protection lasts 12 years and does not have a mileage cap. This means that any holes or similar damage to your Volvo car that is caused by rust are covered for the life of this portion of the warranty. The federal emissions warranty runs for eight years or 80,000 miles, extending coverage of components related to emissions, such as the catalytic converter, past the standard bumper-to-bumper warranty.4
This warranty offers peace of mind when you purchase a new Volvo car. Should something go wrong, odds are you'll be covered and won't have to pay thousands out of pocket to fix your new car. Many manufacturers offer warranties that are similar to this one, but Volvo Cars goes above and beyond. In addition to this coverage, your purchase of a new Volvo XC90 for sale includes complimentary maintenance.4
Maintenance program
The Complimentary Factory Scheduled Maintenance program covers a number of maintenance needs for 36,000 miles or three years, whichever comes first.4 This portion of the warranties covers your first three scheduled regular maintenance visits, including a full test of all of your Passive and Active Safety Systems. Volvo Cars does its best to make service easy for drivers with the Volvo Valet program.5 Your local Volvo dealership will pick up your car, perform service on it, and return it to you. They'll even provide a loaner if you need one.
We are proud to be that local Volvo dealer for people in Delray Beach, FL. In addition to incredible service, we offer Volvo lease specials and a wide variety of new Volvo cars and used vehicles to purchase.
How Does the Volvo XC90 Stack Up With the Competition?
2023 Volvo XC90 vs. Porsche Cayenne
The Porsche Cayenne is a two-row midsize luxury SUV. Right out of the gate, we see a major discrepancy between the Volvo XC90 and this vehicle: both are midsize SUVs, but the Volvo XC90 can seat more people with its third row. The Porsche Cayenne also has a worse mileage rating, on average, than the Volvo XC90. While Porsche cars are known for being luxurious and powerful, this SUV loses out to the Volvo XC90 on the basics.
Volvo XC90 vs. BMW X5
The BMW X5 is another luxury midsize SUV, and this one does have an optional third row. The base model is, however, thousands of dollars more expensive than that of the Volvo XC90 lineup. This hefty price tag does not deliver a richer interior than the Volvo XC90. While the BMW X5 is replete with luxuries, including leather upholstery and a panoramic sunroof, these features are also found on the less expensive Volvo SUV.
2023 Volvo XC90 vs. Genesis GV80
Genesis is not a well-known brand in North America. It's the luxury division of Hyundai. The Genesis GV80 is another midsize luxury SUV with an optional third row, like the BMW X5. Unlike the BMW vehicle, its base model is not thousands of dollars more expensive than the new Volvo XC90. Genesis has made this vehicle a pretty powerful SUV. It boasts turbocharged engine options, just like the Volvo XC90. What it does not have, however, is any hybrid technology in its powertrain options. The Volvo XC90 is the more environmentally friendly choice of these two luxury SUVs.
Volvo XC90 vs. Mercedes-Benz GLE-Class
The last vehicle in our comparison section, the Mercedes-Benz GLE-Class, features an optional third row and a potent turbocharged engine. It even features hybrid technology in some of its powertrains. The most powerful versions of this SUV lose out to the Volvo XC90 Recharge Polestar Engineered model, however. Where the 2023 Mercedes-AMG GLE-Class, as the vehicle is now called, tops out at 429 horsepower, the Volvo XC90 hits 455 horsepower in its strongest configuration.
Frequently Asked Questions About the New Volvo XC90
Is the 2023 Volvo XC90 getting a redesign?
The Volvo XC90 did receive a mild redesign for the 2023 model year. The lineup of available trims has been completely overhauled, and Volvo Cars has added mild-hybrid technology to formerly gasoline-only powertrain options for the car. This has improved the vehicle's fuel economy, which will help you save at the pump. The 2023 Volvo XC90 redesign has made this already excellent vehicle even more appealing.
When can you order the 2023 Volvo XC90?
You can place an order for the new Volvo XC90 today. The friendly staff at our dealership can help you with this, assisting you in selecting the trim and packages that will make this car the vehicle of your dreams. We can offer financing options and can also lease you this fantastic new vehicle if you would prefer leasing to buying it outright.
What are the different models of Volvo XC90?
The new trims for the Volvo XC90 are called Core, Plus, and Ultimate. You can also still purchase the Volvo XC90 Recharge, the plug-in hybrid version of this luxury SUV. Each version of the car offers incredible value for your hard-earned dollar as they include a comprehensive suite of safety technology and boast incredible luxury features and performance potential.
Is the Volvo XC90 reliable?
The Volvo XC90 is very reliable. The Volvo Cars design ethos emphasizes durability; these cars are designed to keep driving for tens of thousands of miles without major issues. The purchase of a new Volvo XC90 for sale also includes a compelling warranty that includes complimentary scheduled maintenance that will help keep your vehicle running smoothly for the first couple of years of ownership.4
Is the Volvo XC90 expensive to maintain?
The Volvo XC90 is not more expensive to maintain than other luxury SUVs. You can find most any Volvo parts you need near Boca Raton, FL, without expending too much effort. There are Volvo-certified technicians at our dealership who can maintain your vehicle for a fair price. Reach out to us today about Volvo service.
Volvo XC90 Reviews
Anita Pyclik
17.08.2020

Absolute wonderful dealership!! after a draining couple of months of searching for a new car, we're so happy we went to Gunther Volvo Delray. Curtis Smith was an absolute pleasure to deal with. He was extremely patient and genuine with us, ensuring we got the best car to suit our lifestyle and needs. Our new XC90 is perfect and we couldn't be happier with our choice. Definitely one of the most top-notch dealerships in South Florida! Thank you again Curtis!!

Robert Sprehe
08.09.2018

I wish there were more stars......My recent experience with Anthony Cardoso was absolutely incredible! It was the way a car buying experience should be. Anthony gave me such an unbelievable deal on my new XC90 that I drove from my home in Tampa, FL all the way to Delray Beach.If you want the best, talk to Anthony.Thanks for everything Gunther Volvo. And a special thanks to Anthony for making it so easy and enjoyable to purchase a new Volvo.Respect!

Dimitar Shishkov
08.09.2018

Very professional and knowledgeable sales team. My wife and I love our XC90 and will be back here for our next car soon. The service department is also extremely quick to reply and accommodating when I need anything done on our car.

Explore Our Other Volvo Models
---
1Prices shown are Manufacturer's Suggested Retail Price (MSRP), Base Price or Starting At price and excludes destination fees, taxes, title, license, and registration and/or electronic filing fees, dealer fees.
2For more information, please visit the official US government source for all fuel economy at www.fueleconomy.gov
3This is an electric vehicle. Since electricity is not measured in gallons, a conversion factor is used to translate the fuel economy into miles per gallon of gasoline equivalent (MPGe). EPA-estimated 27 combined MPGe. Use for comparison purposes only. Your MPGe will vary for many reasons, including but not limited to, driving conditions, how and where you drive, how you maintain your vehicle battery-package/condition, and other factors. For more information, including information on MPGe, see www.fueleconomy.gov
4Warranties listed on this webpage shall not be solely relied upon. Warranties may be subject to specific terms, restrictions, exclusions, and fees. Additional warranty information may be obtained by visiting the official website of the warranty provider. Contact our dealership for complete details.
5Volvo Valet is only available at participating retailers. Loaner vehicles are subject to dealer availability and policies.