2023 Volvo XC40 Recharge Review, Pricing, And Specs

The 2023 Volvo XC40 Recharge Pure Electric SUV is a compact SUV that can make a huge difference in your daily life. It has a 223-mile electric range,1 meaning that the average American can complete almost a full week of driving without using any gasoline or even stopping to recharge. We recommend charging your vehicle regularly with your home wallbox to keep it ready for whenever you are feeling adventurous. Learn more about this impressive SUV below.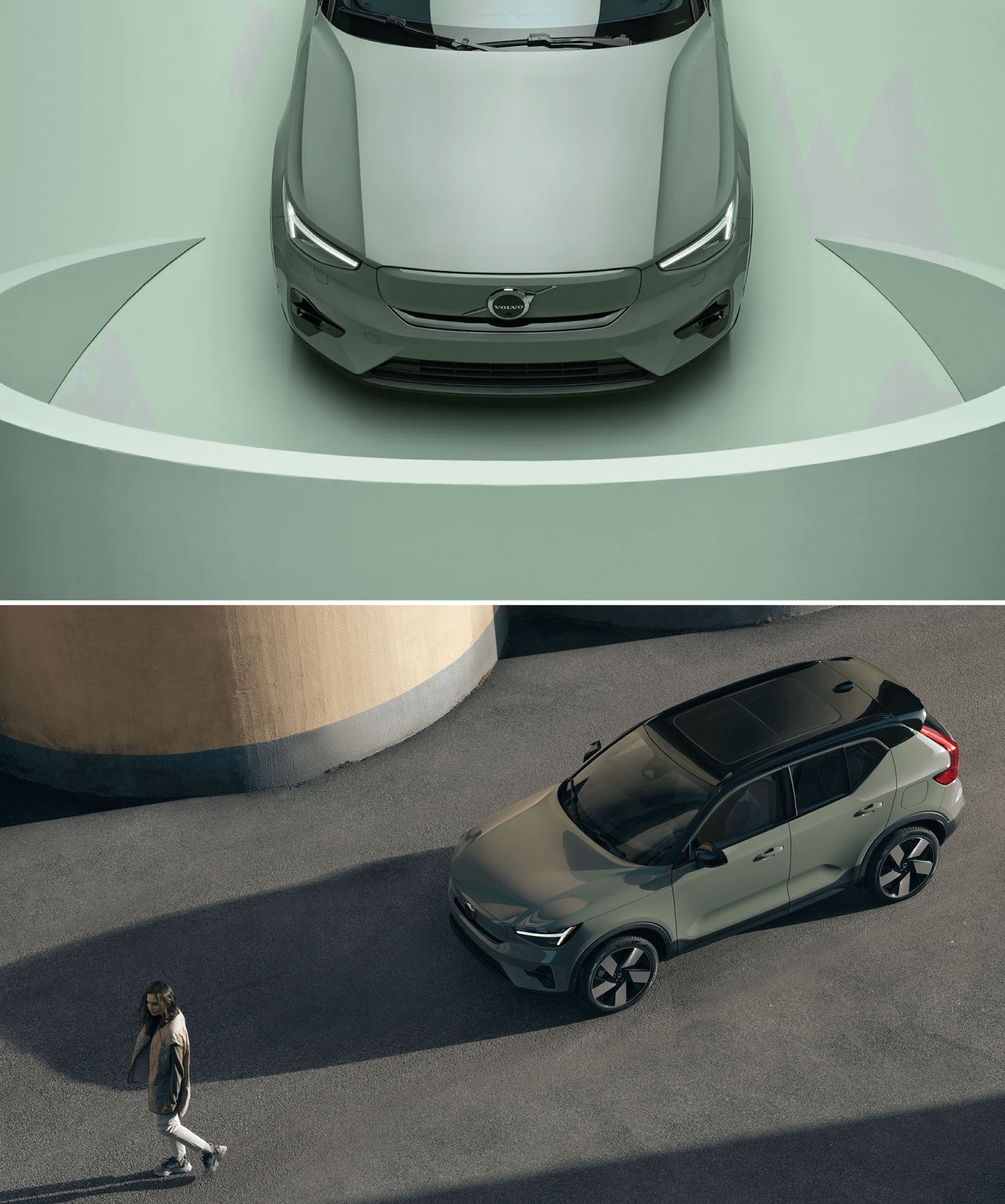 2023 Volvo XC40 Recharge Pure Electric Specs
The 2023 Volvo XC40 Recharge range is 223 miles on a full charge.1 However, the best way to protect your car's battery long-term is to keep its levels within the 20%-90% range. You can go from 10% to 80% in 37 minutes using a public DC fast-charging station. However, if you have more time to spare, such as when your SUV is tucked into your garage at night, it's often better to use AC charging, which will get you from 0% to 100% on 240 V 48 A in eight hours.
In addition to these numbers, you should know that a Volvo XC40 Recharge can deliver up to 402 horsepower and 486 pound-feet of torque with its dual electric front and rear motors and 78 kWh 396 V lithium-ion battery system. This vehicle comes standard with front-wheel drive and an automatic transmission.
When a stop light goes from red to green, you can go from 0 to 60 in 4.7 seconds and reach a max speed of 112 miles per hour if you find a place where you're legally allowed to do so. A 2,000-pound maximum towing capacity, when properly equipped, can be useful for families going camping or completing home landscaping projects.
2023 Volvo XC40 Recharge Interior Dimensions
This SUV offers comfortable space for your family while remaining maneuverable enough that parallel parking in the city won't be a problem. It measures 174.8 inches long, 75.2 inches wide (without mirrors), and 65 inches tall. This gives those sitting in the front row 37.6 inches of headroom and 40.9 inches of legroom; second-row passengers have slightly more headroom (38.3 inches) and slightly less legroom (36.1 inches).
Its 16 cubic feet of cargo space behind the rear row is meant to easily accommodate two suitcases (29.5 inches long, 20.4 inches wide, and 12.2 inches high) lying flat across the bottom with room on top to spare. However, you can also easily expand this storage area to 57.5 cubic feet by folding down the second-row seats. On top of this, there's also a front truck that is useful for packing up your charging equipment and other car care tools. However, if you are looking for something bigger, check out a Volvo XC60 Hybrid, which can run on gasoline but also has a Pure Electric mode.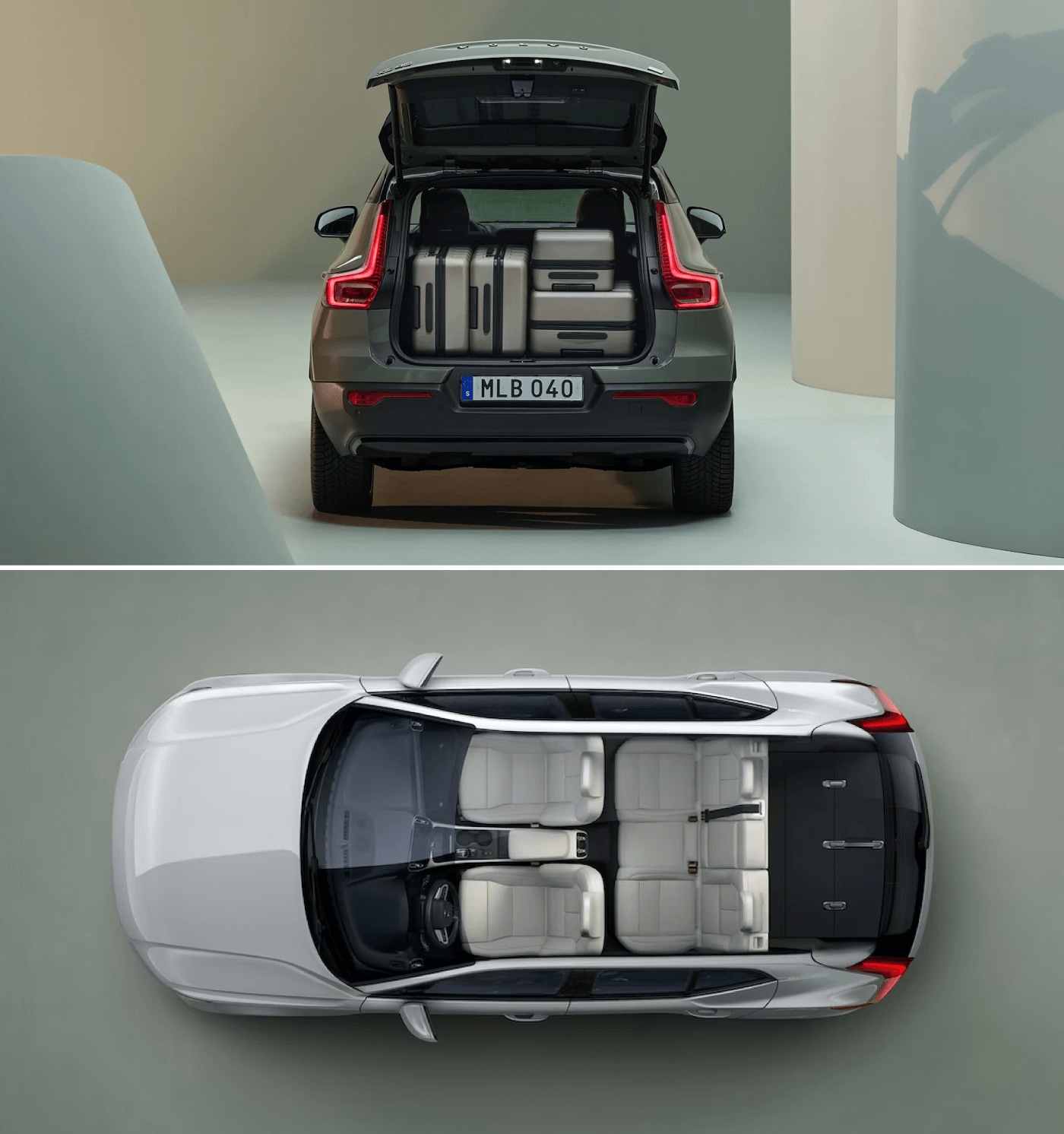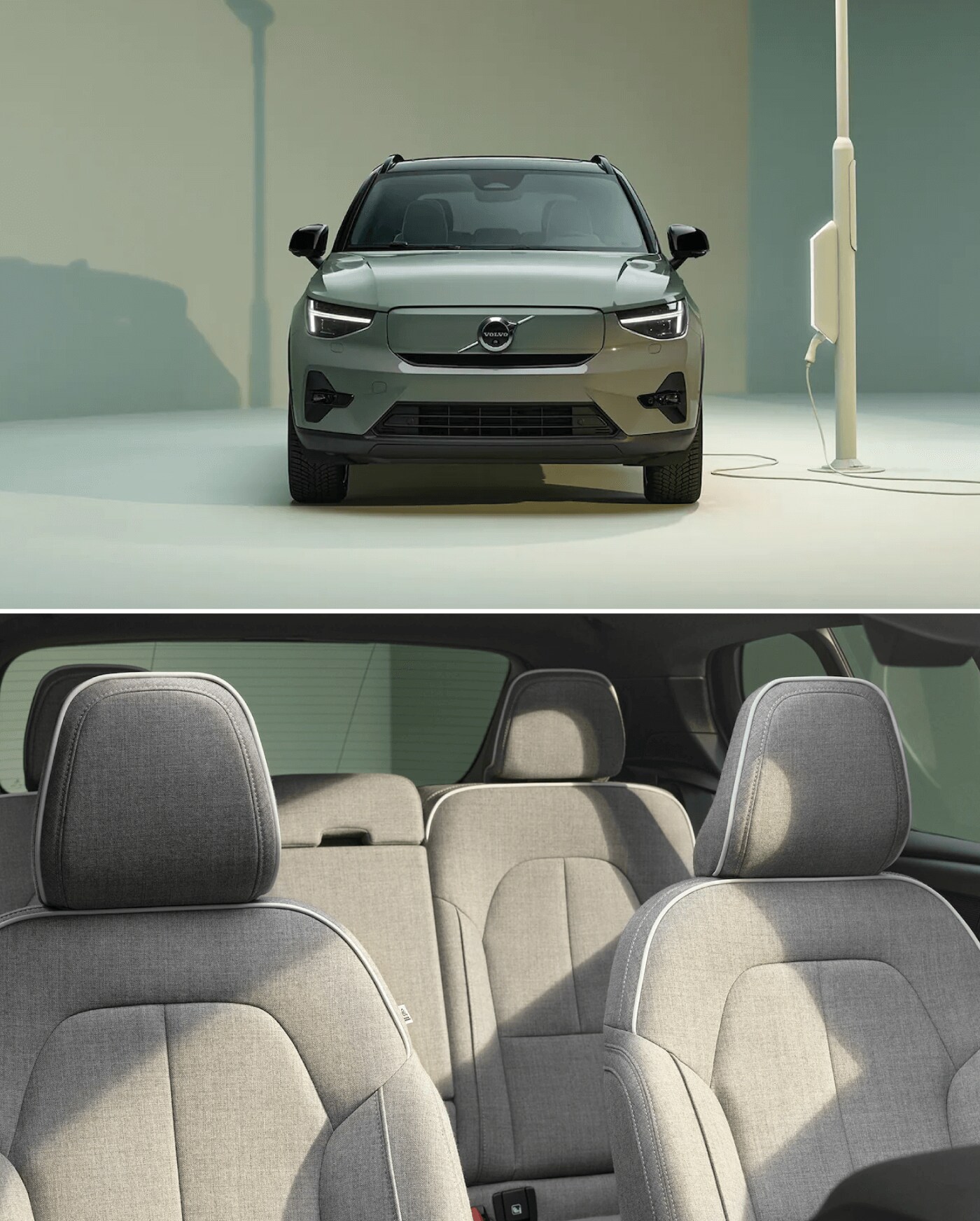 2023 Volvo XC40 Recharge Release Date
This SUV debuted in the Fall of 2022, meaning that you can tour and test drive a Volvo XC40 Recharge and go home with your preferred trim this afternoon. Your trim options are:
Core: This entry-level option contains specialty-made Fusion Microtech/Textile upholstery, which is more sustainable than leather while being sporty-looking and easy to clean. Inside the cabin, you'll also find interior high-level illumination, a 12-inch instrument panel, a 9-inch center display, heated front seats, and a power driver's seat with memory settings. Standard driver-assistance features include a rearview camera, a lane-keeping aid, oncoming lane mitigation, and the BLIS™ suite.
Plus: Additions found in this mid-level trim include a panoramic moonroof, fog lights, and a 360-degree camera. There is also a power outlet in the cargo compartment.
Ultimate: This option utilizes a heat pump for efficient heating and cooling. You'll also enjoy a heated steering wheel to keep your hands warm and relaxed, heated rear seats, and a Harman Kardon® premium sound system for crisper sound quality. Adaptive cruise control and Pilot Assist will prove extremely helpful on the road.
Find Your Dream Volvo SUV Here
Our team wants to see you happy behind the wheel. For many, we think the Volvo XC40 Recharge will work well for their lifestyle, especially since electric vehicles often require less maintenance than gasoline-powered vehicles, freeing up your busy weekends. However, if you want something that can run on gas or have a larger family, we'd be equally thrilled to introduce you to the three-row Volvo XC90 Hybrid or something else that matches your wishlist. Ask us questions or shop our selection today.
Frequently Asked Questions
When can I order a 2023 Volvo XC40?
You can find a 2023 Volvo XC40 on our lot today. Call ahead of time to confirm the availability of the specific trim that you want, and we'll set you up on a test drive. Alternatively, if you want a more custom ride, our associates can help you order the perfect Volvo XC40 for you in Thunder Grey or Fjord Blue.
Can Volvo XC40 charge at Tesla charging stations?
It is possible to charge your Volvo XC40 or other Volvo EV at a Tesla charging station, when properly equipped with an aftermarket charging cable adapter.2 You get a one-year complimentary subscription to utilize Electrify America charging stations at a discounted rate,3 so we recommend seeking those out if possible. To learn more about the Electrify America program or charging in general, contact our team today.
How much will the 2023 Volvo XC40 Electric cost?
The MSRP for a 2023 Volvo XC40 Recharge is $53,550.4 Given that this vehicle will stop you from ever needing gasoline and comes with complimentary Factory Scheduled Maintenance for the first four years/ 40,000 miles,3 this can be a great deal for your hard-earned money. Of course, the 2023 Volvo XC40 Recharge price will go up slightly if you opt for a higher trim level.
---
Want To Get Updates On The 2023 Volvo XC40 Recharge Pure Electric? Contact Us!
* Indicates a required field
---
1Anticipated range is according to WLTP and EPA driving cycles and real-world range may vary.
2This information is not verified by the official manufacturer and shall serve solely as unofficial general information. It is your sole responsibility for any injuries and damages incurred as a result of performing such actions contained in this web page.
3Warranties listed on this webpage shall not be solely relied upon. Warranties may be subject to specific terms, restrictions, exclusions, and fees. Additional warranty information may be obtained by visiting the official website of the warranty provider. Contact our dealership for complete details.
4Prices shown are Manufacturer's Suggested Retail Price (MSRP), Base Price or Starting At price and excludes destination fees, taxes, title, license, and registration and/or electronic filing fees, dealer fees.