Volvo Leases Vs. The Competition
Our Volvo lease comparison hub takes all of the most popular Volvo Cars models and puts them up against their stiffest competition. Not only do our comparisons tell you everything you need to know about the newest Volvo Cars SUVs and compact cars available, but they also compare each model's strength, speed, and size to similar models from popular competitors. When you're researching the following Volvo models, you'll probably see the specs of these other models on the same websites or listed next to them when the industry's authoritative voices give their greatest compliments at their annual award shows.
We put all the important information all in one place, so you can compare each Volvo Cars sedan and SUV to their fiercest rivals. Once you've decided on the size of the car you're looking for, these comparisons will help you narrow your choices down, given your priorities and preferences.
So don't waste any more time; deftly read through our dynamic duo reviews and decide which new model will be making the victory parade down your street and across your driveway.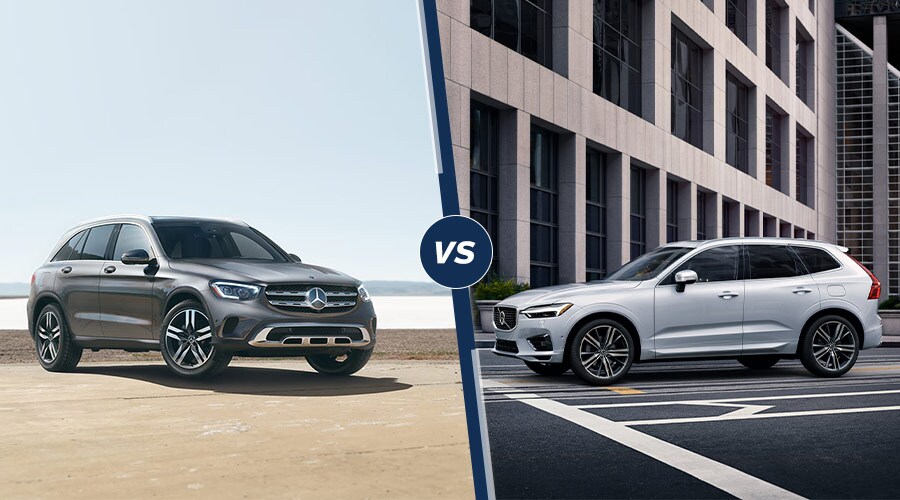 Mercedes Benz GLC 300 vs. Volvo XC60
Two mid-size SUVs bring class to a whole other level. See which one of these versatile, reliable, and high-performing road-dwellers fits best in your driveway by reading through our comparison. Families looking for an SUV that delivers room for cargo and passengers alike, while still packing a powerful performance under the hood, should pick between these predators to begin every morning prepared to prowl.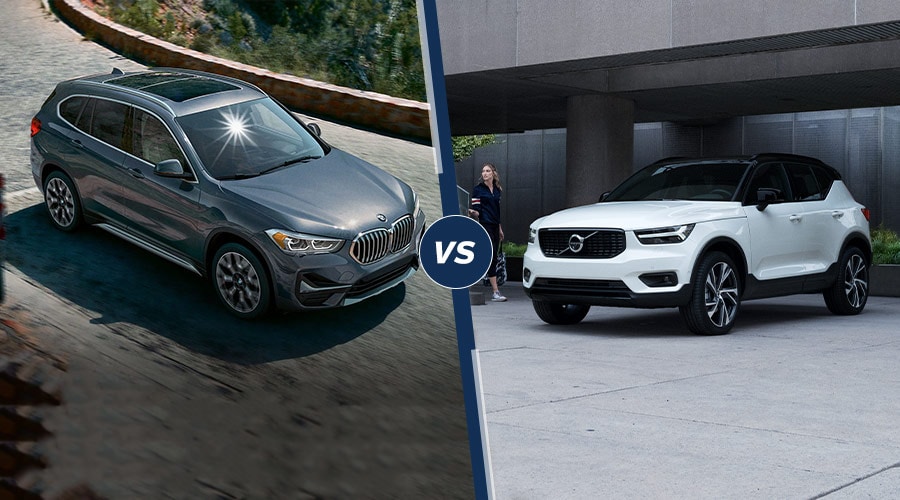 BMW X1 vs. Volvo XC40
These crossover SUVs have enough room to fit the whole family yet aren't too bulky to fit into the awkward last parking spot at the theme park or in the rare open space in front of your favorite restaurant. Enjoy plenty of zip inside an SUV that's full of durable and comfortable materials but free of unnecessary bulk that gets in the way.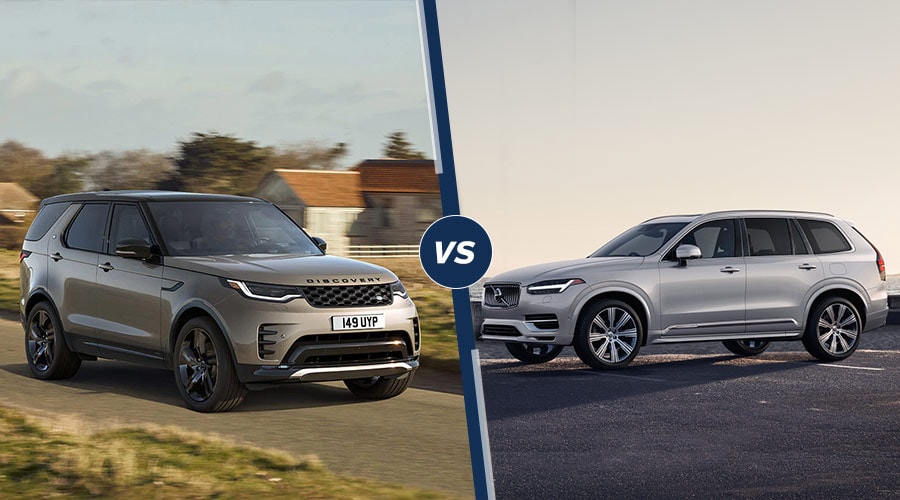 Land Rover Discovery vs. Volvo XC90
In the heavyweight division, we have a bout for the big boy championship belt between a "large and in charge" Land Rover model and the largest Volvo SUV in the Volvo Cars lineup. We put both big fellas to the test, measuring the size, strength, and fuel-efficiency of both of these ground-shaking, goliath, luxury SUV options.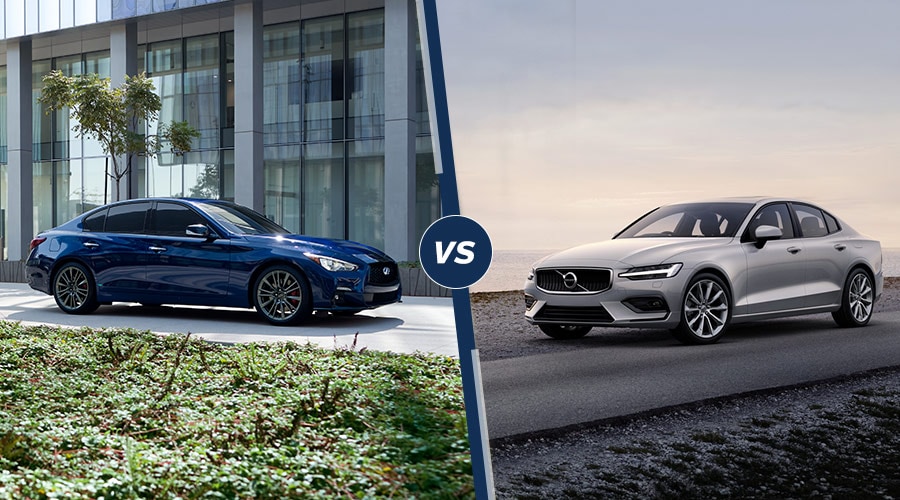 INFINITI Q50 vs. Volvo S60
INFINITI showed their ambition in this competition, taking on the high standard of safety and the well-earned reputation for reliability of Volvo Cars long-lasting sedan. These two smaller-sized car models may not be as big as the other cars we've compared, but both are terrific picks for drivers that are down to go for it all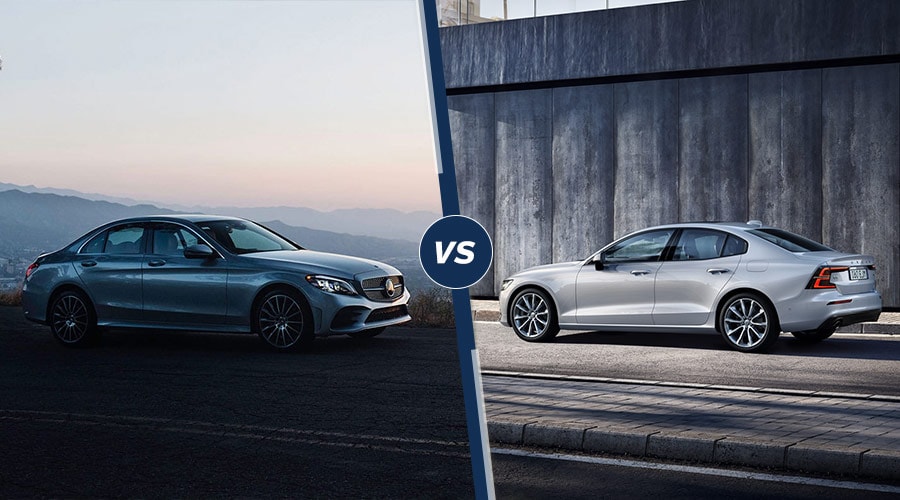 Mercedes-Benz C300 vs. Volvo S60
The Volvo S60 brings class, precision, and supreme quality at the luxury sedan level for Volvo Cars. You'll enjoy a comprehensive suite of driver-assistance features, a design filled with elegance and grace, and getting excited to drive this car every time the garage door opens. As for the Mercedes-Benz, class is a core component in every model.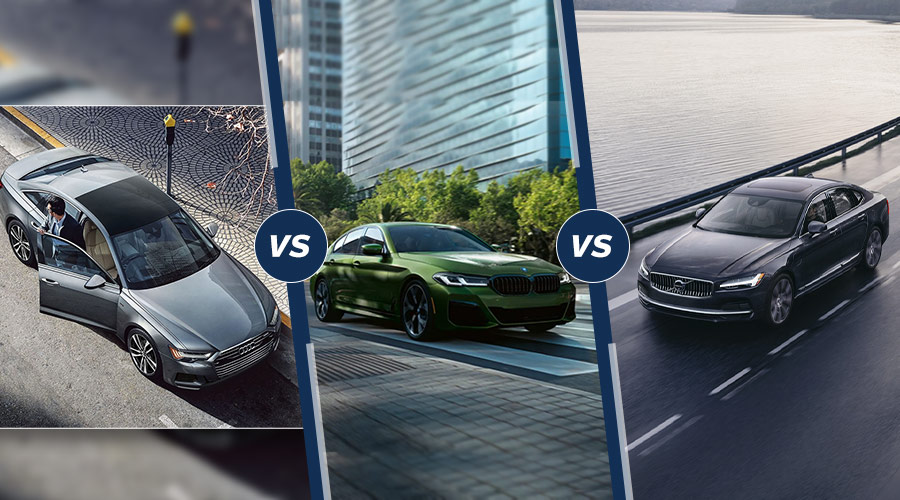 Audi A6 vs. BMW 5 Series vs. Volvo S90
Luxury mid-size sedans are some of the most popular car classes because they bring valuable performance to the table while looking absolutely immaculate. This trio of crowd-pleasers puts on a show every time they take to the streets. See which one fits best in your driveway between the three of them.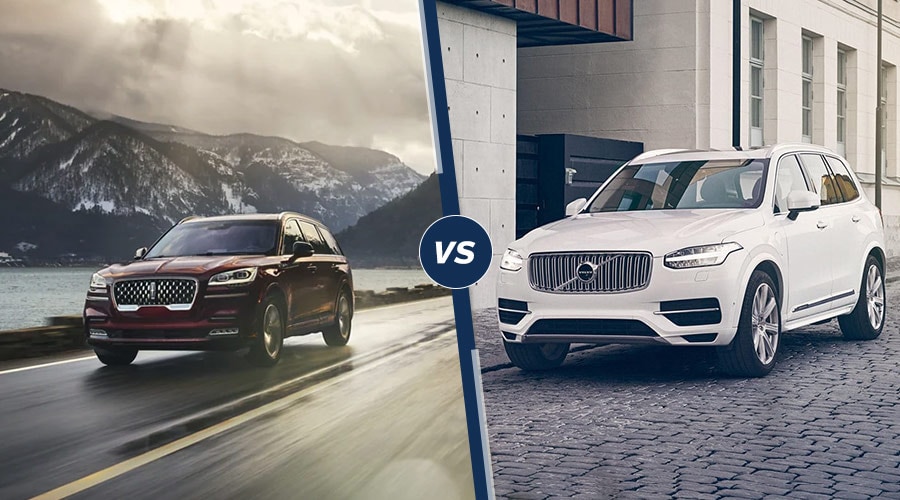 Lincoln Aviator vs. Volvo XC90
Make way, the big fellas are coming through. Get out of the way, or it won't end up so great. When you decide between the Aviator and the XC90, you're picking between two of the heaviest haulers that can still get the job done efficiently and quickly. Lose the boxy, useless weight of the past and consider the future of luxury SUVs.
As you can see, there are plenty of models from which to choose, and they all bring something unique to the table. While some may have a perceptible advantage in other areas, when it comes to safety, Volvo vehicles are still favored above all others in this Volvo lease comparison. Volvo vehicles are consistently reviewed as the top-tier selection by family captains that want to make sure their most precious co-pilots are safe and sound every step of the way home.
FAQs About Volvo Lease Comparisons
After drivers read through our comprehensive comparisons of the most chief competition to Volvo Cars models, we often hear the following questions. We're happy to answer any question you may have about our Volvo lease comparisons as well; just give us a call today, or stop by our showroom.
What are the benefits of leasing a luxury vehicle?
While there are several benefits of leasing a luxury vehicle, one stands out to us above all the rest. Getting a beautiful new vehicle to drive through Volvo leases, for example, gets you access to the plush comforts and future-oriented technology embedded within all the new models. But, you don't have to invest long term in keeping that comfort pristine and spotless until that fateful day in the very distant future when you have to say goodbye to a car whose modern features are now a thing of the past. You'll actually get to enjoy the high-end luxury materials wrapping your seats and steering wheel, and the comfort of tapping into high-quality sound inside a cabin built for long rides is unmatched. Most Volvo lease rates and the lease rates of other luxury vehicles may also include free maintenance & roadside assistance over the course of your lease.
Be sure to ask your local vehicle expert about the rates and perks available for leases at your location. They'll also introduce you to our lease specials and answer any questions about leases you can think of.
Which luxury leases have the highest mileage allowance?
Mileage allowances are another good standpoint from which to evaluate the models in our Volvo lease comparison. Though they may vary based on your state, dealership, and other factors, here are some baseline estimations for the common lease lengths of a few popular manufacturers.
Audi lease mileage allowance: 10,000 miles per year
BMW lease mileage allowance: 7,500 miles per year
Volvo Cars lease mileage allowance: 10,000 miles per year
Mercedes-Benz lease mileage allowance: 10,000 miles per year
Range Rover lease mileage allowance: 10,000 miles per year
We hope our compilation of Volvo lease comparisons has helped you in your new-car journey. Looking at the features and trim options offered by a couple of models really gives you a full sense of all your choices and helps new drivers make informed choices. After all, this car is where you'll be spending a ton of time — zooming past the challenges of the present towards all the great times ahead. Don't make such a big decision without laying out all the facts, figures, and features in front of you. We hope we've helped clear the air for you when it comes to leasing luxury automobiles and look forward to seeing you exit our lot in the luxury lease of your choice soon.
Discover More Lease Comparisons:
---
Make an Inquiry
* Indicates a required field